Hi, I'm Salik, the author of FilmmakingElements.com. I have been a filmmaker for over 10 years. I am also a certified DaVinci Resolve Trainer and I have used DaVinci Resolve for many of my projects. Drawing from my experience and technical know-how, I have curated a list of the 3 best BenQ monitors that will elevate your color grading game in DaVinci Resolve.
As the digital world constantly evolves, filmmakers and colorists require hardware that can keep up with the ever-advancing demands of post-production. One such essential tool for any serious colorist or filmmaker is a reliable and color-accurate monitor. And when it comes to monitors tailored for color grading, BenQ stands out as a top contender, offering a range of options that promise precision and clarity. But with so many models available, which ones truly shine for DaVinci Resolve workflows?
3 Best BenQ Monitors For Color Grading In Davinci Resolve
1. BenQ SW240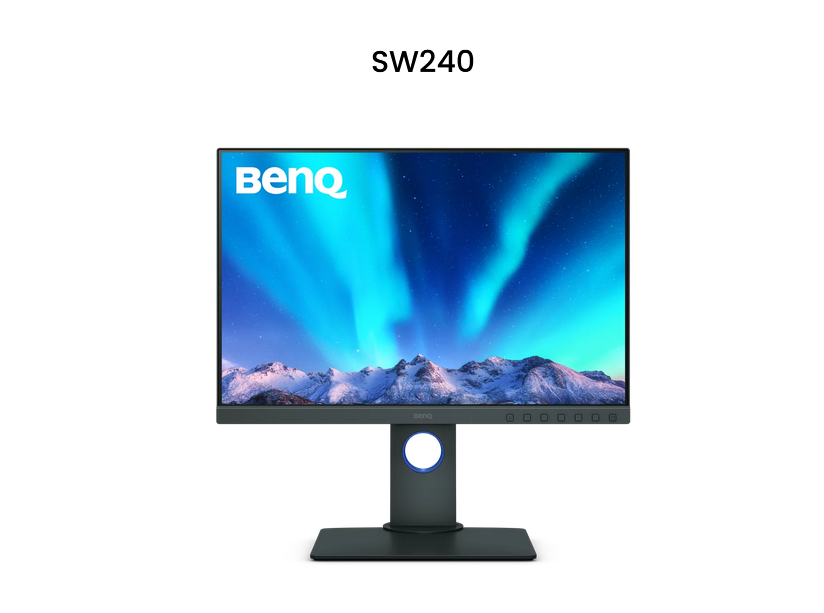 When I embarked on a search for a professional-grade monitor for color grading, the BenQ SW240 caught my attention. This 24.1-inch IPS monitor boasts a remarkable gamut coverage of 99% Adobe RGB and 100% sRGB, all presented in a crisp resolution of 1920 x 1200. Not only that, but features like the 14-bit 3D Look Up Table (LUT), hardware calibration, and a color mode hotkey seemed promising. Here's a deep dive into my personal experience with the BenQ SW240, specifically for color grading in Davinci Resolve.
Bit Depth
Understanding the bit depth is critical in color grading. Essentially, it dictates the number of bits allocated for each color. The richer the bit depth, the more varied and nuanced colors can be portrayed. The SW240, in particular, sports a 10-bit color depth. In practice, this allowed me to view up to 1.07 billion colors, making for smoother gradients and more precise color transitions.
Color Space
Different projects demand different color spaces. The SW240 covers an impressive 99% of the Adobe RGB color space, perfect for print and photography. It also nails the full 100% of the sRGB color space – a staple for web and digital designs. The added bonus? It comfortably covers 95% of the DCI-P3 color space used for digital cinema. The color mode hotkey proved invaluable, allowing me to effortlessly transition between color spaces as I worked.
Contrast Ratio
Contrast ratio plays a pivotal role in discerning finer details in both darker and lighter segments of an image. The SW240 offers a native contrast ratio of 1000:1, fairly standard for IPS monitors. But, its dynamic contrast ratio of 20M:1 is where things get interesting. The monitor's adaptive backlighting fine-tuned itself based on the content, ensuring striking clarity.
Calibration
Calibration is non-negotiable for accurate color grading. The SW240's hardware calibration was a game-changer. It allowed me to use an external device, like a calibrator, to adjust its settings precisely. Coupled with the 14-bit 3D LUT, the color blending on images was spot on.
One of the standout aspects was the factory-calibrated accuracy of this monitor. With Delta E < 2 for both sRGB and Adobe RGB color spaces, colors were as authentic as they come. Not to mention, its certification by esteemed entities like Calman and Pantone vouched for its unparalleled color management.
Price
Price always plays a part in decision-making. The SW240 offers phenomenal value. Priced at roughly $400, it stands out as a steal when pitted against competitors like the Eizo CS2420 or the Dell U2413. For those working within a budget but unwilling to compromise on quality, the BenQ SW240 is an exceptional choice for Davinci Resolve.
2. BenQ SW272U
Venturing into the world of professional color grading? The BenQ SW272U might just be what you're seeking. This 27-inch IPS marvel not only delivers a pristine 4K resolution but also boasts a color gamut encompassing 99% Adobe RGB and 95% DCI-P3. It doesn't end there – a staggering color accuracy of Delta E ≤ 1.5 and the integration of hardware calibration, HDR10, HLG, and a 90W power delivery USB-C port, collectively make it a tempting proposition. Let me share my personal insights on the BenQ SW272U's capabilities in the realm of Davinci Resolve.
Bit Depth
It's no secret that a monitor's bit depth determines its color displaying prowess. With a 10-bit depth, the SW272U seamlessly showcases up to 1.07 billion shades. From my experience, this feature proved invaluable, allowing for nuanced transitions and outstanding color fidelity, an essential facet for color grading.
Color Space
Each color space serves its purpose – from print and photography to cinematic production. The SW272U encompasses 99% of the Adobe RGB, primarily used in printing. It doesn't shy away from the cinematic world either, covering a commendable 95% of the DCI-P3 color space. And for those eyeing digital designs, it's good to note that it encapsulates the entirety of the sRGB spectrum.
What particularly intrigued me was the inclusion of the wireless Hotkey Puck G3. This nifty device streamlined my workflow, allowing swift navigation between color spaces – a boon during meticulous editing sessions.
Contrast Ratio
A monitor's contrast ratio is vital in distinguishing the intricate details in variegated light conditions. The native contrast of 1000:1, standard for most IPS monitors, was evident in the SW272U. But what set it apart was its support for HDR10 and HLG. These high-dynamic range formats took the visuals up a notch, accentuating the contrast, thereby elevating the image and video quality.
Calibration
To achieve uniformity across multiple platforms, calibration is paramount. The hardware calibration of the SW272U was a revelation, permitting the use of external devices for adjustments. Furthermore, its 16-bit 3D LUT was instrumental in refining color blending.
Being factory-calibrated for both sRGB and Adobe RGB at Delta E ≤ 1.5 is noteworthy. And with endorsements from reputed entities like Calman and Pantone, the monitor's credentials in color management are undebatable.
Price
Cost can often be a deterrent, but with the SW272U, quality doesn't come with an exorbitant price tag. At approximately $1,600, it competes favorably with pricier alternatives like the Eizo CS2740 or the Dell UP2718Q. Those eyeing an economic yet proficient solution for Davinci Resolve, the SW272U might be your answer.
3. BenQ SW321C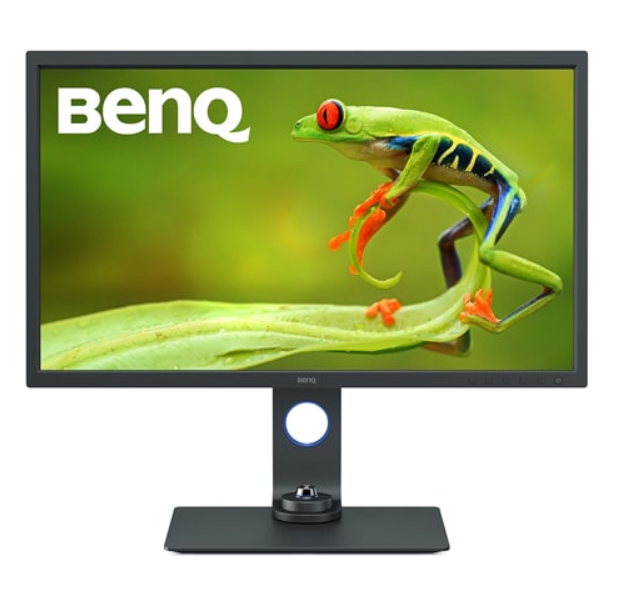 At a glance, the BenQ SW321C is a masterpiece tailored for professional editors. With its impressive 32-inch 4K UHD display, this monitor is perfectly suited for intensive photo and video editing tasks. Boasting a color gamut that spans 99% Adobe RGB, 100% sRGB, and 95% DCI-P3, its high color accuracy of Delta E < 2 ensures that your work is showcased in all its vibrancy. Add to this its support for hardware calibration, Paper Color Sync technology, HDR10, and HLG, and you have a monitor that stands out from the rest. Here, we delve into its features as a prime choice for color grading with Davinci Resolve.
Bit Depth
Bit depth is crucial for understanding how many colors a monitor can reproduce. The SW321C offers a commendable 10-bit depth, translating to a staggering 1.07 billion colors. This depth ensures smooth gradients, precise transitions, and authentic color depiction, making it a standout for color grading tasks.
Color Space
Every color space serves a purpose, from photography and design to cinematic endeavors. The SW321C envelops 99% of the Adobe RGB spectrum, 100% of sRGB, and a hefty 95% of the DCI-P3. Its built-in color mode hotkey is a unique feature, allowing editors to transition between color spaces effortlessly. This flexibility proves invaluable when aligning your work to the intended output medium.
Contrast Ratio
Contrast is the soul of any visual, indicating the gap between the darkest and brightest points. With a standard IPS contrast of 1000:1, the SW321C holds its own. But it goes a step further with a dynamic contrast ratio of 20M:1, adjusting its backlight based on content, thus amplifying contrast and clarity.
Calibration
Consistency across devices is paramount. Calibration helps achieve this. The SW321C's support for hardware calibration lets users adjust settings using external tools. With a 14-bit 3D LUT, it refines color blending, ensuring images are showcased perfectly. Its factory settings for sRGB and Adobe RGB, coupled with a Delta E < 2, highlights its commitment to color accuracy. Add to that the nods from Calman and Pantone, and its credibility is solidified.
Price
Budget considerations are pivotal. Priced at approximately $1,899, the SW321C presents a compelling value proposition, especially when juxtaposed against rivals like the Eizo CS2740 or Dell UP3221Q. Those on the lookout for a cost-effective yet feature-packed monitor for Davinci Resolve need not look further than the BenQ SW321C.