Hey guys, what's up? Welcome back to Filmmaking Elements, in this article we're looking at fast external solid-state drives a.k.a SSDs for video editing, and in particular comparing the Samsung T5 and T7 drives. We'll look at the distinctions between them and analyze the benefits and drawbacks of each. So let's get this party started.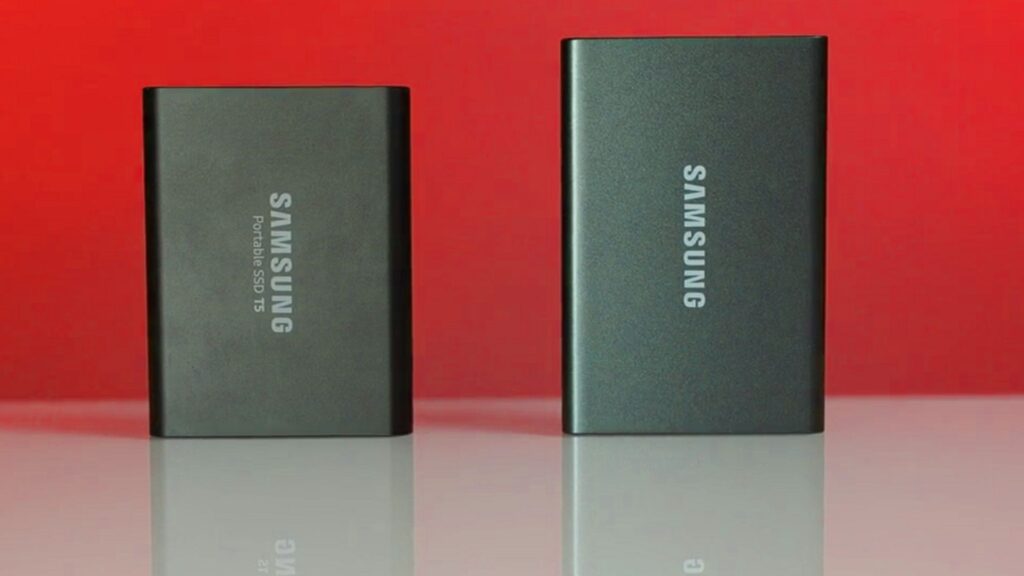 What do you get in the box?
I recently purchased the Samsung T7 drive, so let me quickly go over what you get when you unbox it before we get into the review. So when you open the box, you get your Samsung T7 SSD of course. The one I purchased for myself is the Gray variant with 1TB in size.
It comes with a USB-C to USB-A cable as well as a USB-C to USB-C cable, and that is pretty much it for what's in the box. 
Samsung T5 vs T7, Best SSD For Video Editing 
General Overview Between T5 and T7 SSDs
Both of these drives are portable, dependable, and fast, and they come in a range of sizes from 500GB to 2TB, as well as a number of colors. The read and write speeds, as well as the physical size, are the key differences between the two drives.
The T5 was released in the summer of 2017, and I bought the two-terabyte model over a year ago, and I've been using it for video editing ever since. It's a speedy and trustworthy solid-state drive that's never failed me down. The T5 has a maximum transfer speed of 540 MB/s and has always kept up when I'm editing directly from the drive. Which I usually do a hundred percent of the time.
It's incredible that I can edit 4K videos directly from a credit card-sized device that doesn't slow down my computer at all. The small size of this device is an advantage in and of itself, as it fits easily into a pocket, a backpack, a camera bag, or just about anyplace else. It's the exact same size as a credit card! Can you believe this!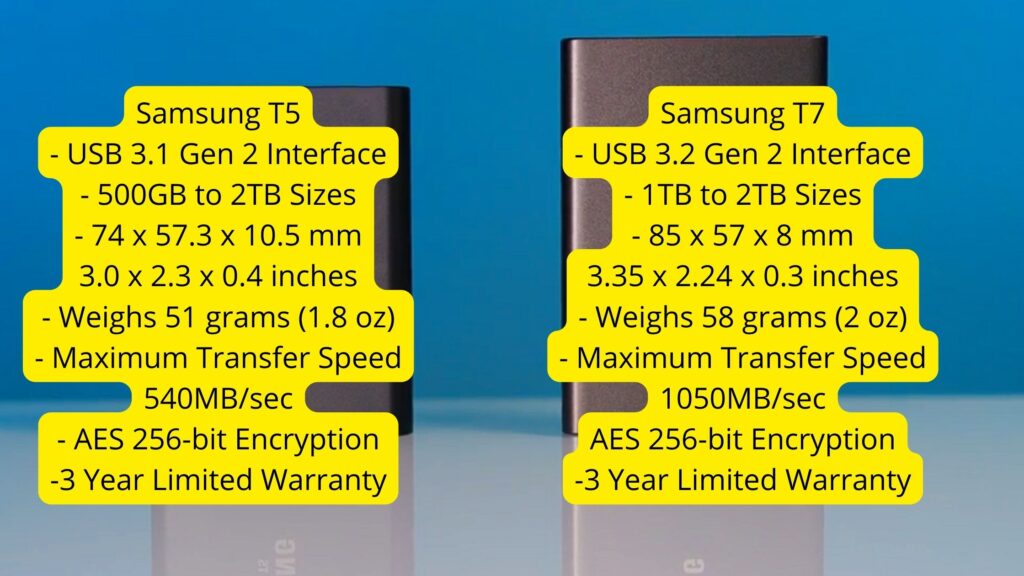 Another benefit of SSD drives is that they have no moving parts, thus they don't require the same level of care as conventional spinning hard drives.
Samsung has built the T5 with a full metal, shock-resistant frame that can endure drops of up to 2 meters onto a hard surface. The T5 also features AES 256-bit hardware encryption to ensure the protection of sensitive user data. 
It can also be plugged directly into Android devices to provide seamless transfers between the drive and an Android device. There is a blue indicator light when the drive is plugged in and working which is situated near the USB-C Port. 
I have been so happy with the T5 that I was going to buy another one, but decided on the T7 due to the speed increase. 
This brings us to the T7 SSD. The T7 was released in the spring of 2020, and as I mentioned earlier, I purchased the 1 TB version recently. The T7 has a maximum read speed of 1050 MB/s and a maximum write speed of 1000 MB/s, making it almost twice as fast as the T5.
 It is the length and width of a credit card, though considerably thicker. The T7 is also available in a touch version that includes a built-in fingerprint reader for added security and protection. 
Although I decided to save a few dollars and just went for the regular T7. The only difference between the two is a fingerprint sensor and no compromise in speed at all.
 It also uses AES 256-bit hardware encryption just like Samsung T5, which is nearly unbreakable provided you use a strong password. The T7 is slightly longer than the T5, but also considerably thinner. 
It also features a full metal shock-resistant frame, making it drop-resistant up to six and a half feet, and the color choices include gray, blue, and red. 
The T7 has a USB Type-C port on one end, and next to the Port is a tiny status light, which shines blue when the drive is connected and blinks when a data transfer is in progress. 
Noteworthy differences between the two!
Now I'm just going to break down the important differences between these two drives. 
The T5 has a USB 3.1 Gen two interface and comes in a variety of sizes, ranging from 500GB to up to 2TB. The size of the T5 is 74.0 x 57.3 x 10.5 mm, which translates to 3.0 x 2.3 x 0.4 inches and weighs 51 grams or 1.8 oz. It has maximum transfer speeds of up to 540 MB/sec, and for security, it features AES 256-bit hardware encryption and features a three-year limited warranty. 
The T7 has a USB 3.2 Gen two interface and comes in two sizes, ranging from 1TB to 2TB, and the size of the T7 is 85 x 57 x 8.0mm, which is also 3.35 x 2.24 x 0.3 inches and weighs 58 grams or 2 oz. It has maximum transfer speeds of up to 1050 MB/sec, and for security, it features AES 256-bit hardware encryption and also features a three-year limited warranty.
 They both ship with a USB-C to USB-A cable, and a USB-C to USB-C cable. Neither one of these drives has been tested for water or dust resistance, so best to keep them dry and clean.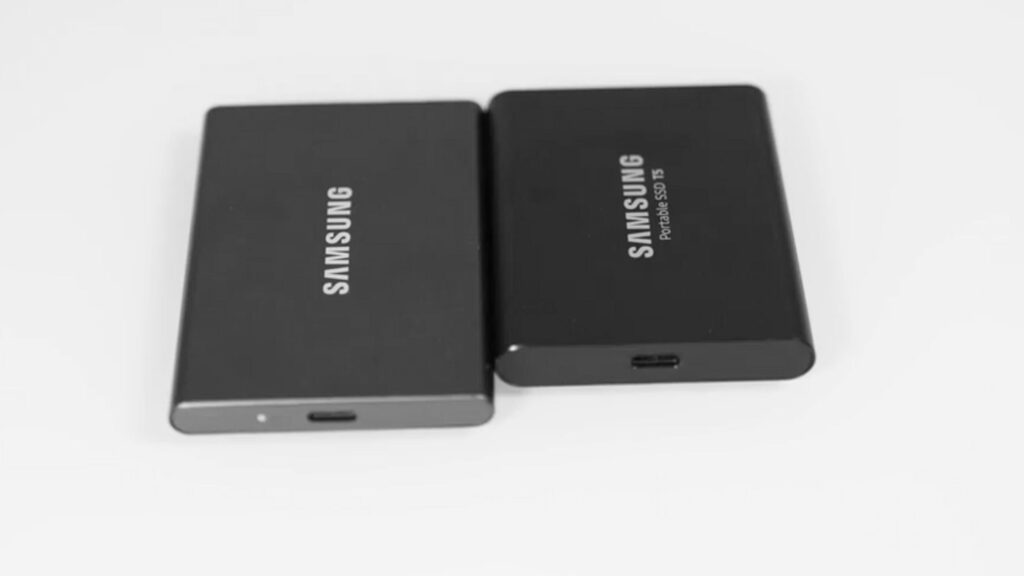 Speed testing T5 and T7
When using either one of these drives for video editing, the most important factor will be the deciding factor is which one is faster in terms of read and write speeds. A lot of people might be willing to upgrade from their older T5 SSD to the newer T7 SSD. Which I think is greatly a good upgrade.
The next thing I want to do is test the speeds of these two drives, and to do that, I just copied the same 17GB file from the computer onto each drive. The T5 took 46 seconds and the T7 took 30 seconds so as you can see the T7 is considerably faster. 
In general, I believe these are both excellent portable SSD drives with which you cannot go wrong. They are both compact and lightweight, which makes them extremely portable, and their lightning-fast performance is incredible.
It's highly convenient to have a tiny, high-performance, and high-capacity storage option that fits neatly into a pocket. They are quite portable and easy to edit while traveling.
The AES 256 bit hardware encryption and the ability to seamlessly work with Android devices make both of these fantastic options. 
Conclusion
I believe that if drive speed is the most important factor, which will obviously be a top priority for you while video editing, then the T7 is the better choice. However, if you're looking to save a few dollars while still getting a fast portable SSD drive, the T5 may be the better choice because it is less expensive than the T7. You can also wait for a sale when the Samsung T5 is significantly less expensive than it typically is.
These drives will satisfy the needs of on-the-go professionals, hobbyists, and enthusiasts who work with huge amounts of data in either case. These have proven to be an excellent solution for filmmakers on set who need to store and transfer data to their post-production facility.