If you're like me, you enjoy taking instant photos with the Fujifilm Instax Mini 90. But sometimes, you might want to spice things up and explore other options. That's why I looked for some other cameras that can use instant film and give me a different feel. Here are the top 3 FUJIFILM INSTAX Mini 90 alternatives that I discovered:
1. FUJIFILM INSTAX SQUARE SQ40
As an expert in instant photography, I'd like to share my insights on why the FUJIFILM INSTAX SQUARE SQ40 is a stellar alternative to the FUJIFILM INSTAX Mini 90.
1. Film Format
I recommend the FUJIFILM INSTAX SQUARE SQ40 for its superior film format. It uses INSTAX SQUARE instant film, providing a picture size of 62mm x 62mm. This is a notable increase from the INSTAX Mini film's dimensions of 62mm x 46mm. The larger square format not only allows for more content in each shot but is also well-loved among social media circles, particularly Instagram users.
2. Image Quality
The SQ40 distinguishes itself with an automatic exposure function that smartly adjusts the photo's brightness based on the ambient light. This ensures that photos come out clear and vibrant, even in challenging lighting conditions such as dimly lit rooms or backlit settings. The Mini 90 also possesses an automatic exposure control, but it lacks the ease of the SQ40, requiring manual adjustments to achieve the right brightness level.
3. Camera Size and Style
As for size and style, the SQ40 boasts a compact and lightweight design, tipping the scales at just 453g without including the weight of batteries, strap, and film. Its sleek, sophisticated appearance is enhanced by a black textured finish and a unique twistable lens ring that serves the dual purpose of powering the camera on and off. In contrast, the Mini 90 weighs in at 296g and features a more traditional, retro look with a brown leather-like finish and a functional mode dial at the rear.
4. Lens and Focus
Lens and focus capabilities are crucial, and the SQ40 offers a straightforward system with two components and two elements, and a focal length of f=65.75mm. It includes a convenient one-touch selfie mode and a built-in selfie mirror, which simplify taking self-portraits. Meanwhile, the Mini 90 comes with a similar lens system but has a slightly shorter focal length of f=60mm and a motor-driven focus switch, which provides macro, normal, and landscape modes.
5. Battery Type and Life
The SQ40 operates on two CR2 lithium batteries, which are estimated to last for approximately 30 film packs under FUJIFILM's test conditions. This far surpasses the Mini 90's rechargeable NP-45A lithium-ion battery, which has a capacity of around 10 film packs. Therefore, the SQ40 offers a longer battery lifespan, reducing the frequency of battery replacements or charges.
6. Additional Features
In terms of additional features, the SQ40 is equipped with double exposure and bulb exposure modes, allowing you to merge two images into one frame or capture extended exposures of up to 10 seconds for creative night scenes and light trails. It also includes party mode, kids mode, and landscape mode, which automatically optimize the exposure settings for various shooting scenarios. The Mini 90 has similar creative modes, but they are less user-friendly, requiring mode dial adjustments to access.
7. Price
Finally, when considering cost, the FUJIFILM INSTAX SQUARE SQ40 is priced at $149.95 USD, which is more affordable than the FUJIFILM INSTAX Mini 90's $199.99 USD price tag. Given its extensive features and more attractive price point, the SQ40 stands out as an excellent alternative to the Mini 90.
2. Lomography Lomo'Instant Wide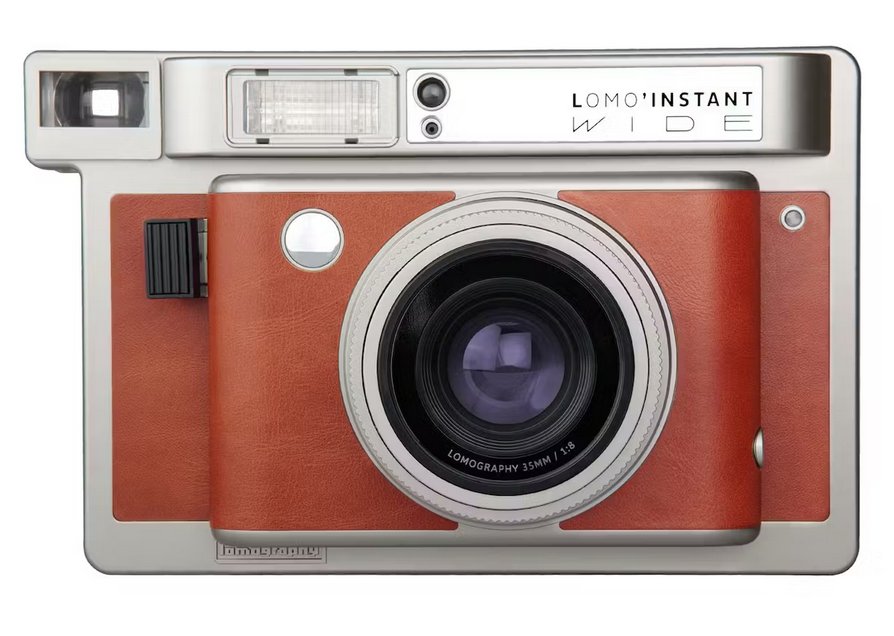 I've spent considerable time exploring various cameras and formats. If you're in the market for something that yields larger prints than the popular Instax Mini format, the Lomography Lomo'Instant Wide Camera is a worthy contender to consider as an alternative to the FUJIFILM INSTAX Mini 90. Here's my breakdown of their features:
1. Film Format
The Lomo'Instant Wide utilizes Instax Wide film, offering an expansive image size of 62mm x 99mm, which is nearly double the size of the Instax Mini film's 62mm x 46mm used by the Mini 90. This larger format is fantastic for capturing detailed scenes and landscapes, though it's worth noting that Instax Wide film tends to be pricier and less readily available than its Mini counterpart.
2. Image Quality
Both cameras produce vibrant images with great contrast. However, the Lomo'Instant Wide boasts a wider aperture range from f/8 to f/22, providing greater control over the depth of field and exposure. In contrast, the Mini 90's fixed f/12.7 aperture can limit some creative possibilities. Additionally, the Lomo'Instant Wide's glass lens is a step up in sharpness and durability from the Mini 90's plastic lens.
3. Camera Size and Style
The Lomo'Instant Wide is bulkier, measuring 143mm x 92mm x 118mm and weighing 750g without batteries and film. It features a chic retro design with a leather-like texture and metal accents. The Mini 90, more compact and lighter at 296g, offers a smooth, classic look with a matte finish.
4. Lens and Focus
With a 90mm focal length (equivalent to 35mm), the Lomo'Instant Wide is great for portrait and group shots. The Mini 90's 60mm focal length is more flexible for a range of subjects. Both have a zone-focusing system, but the Lomo'Instant Wide also includes a close-up lens for focusing as near as 10cm, unlike the Mini 90, which focuses down to 30cm.
5. Battery Type and Life
The Lomo'Instant Wide uses four AA batteries, which are convenient to replace. The Mini 90 employs a rechargeable NP-45A lithium-ion battery, more eco-friendly and potentially more cost-effective. Both cameras offer a similar battery life of around 10 film packs or 100 shots.
6. Additional Features
Both cameras come with a built-in flash, self-timer, tripod socket, and multiple exposure mode. Yet, the Lomo'Instant Wide has some unique features the Mini 90 lacks:
A remote control lens cap for distant shutter release.
A PC sync socket to connect external flashes.
A bulb mode for long exposures up to 30 seconds.
A splitzer tool for creative split images.
A color gel filter set to add hues to the flash lighting.
7. Price
The Lomo'Instant Wide is a bit pricier, at approximately $199 for just the camera, or $239 for a combo pack with additional lenses and accessories. The Mini 90 is more affordable, around $120 for the camera alone or $150 for a bundle that includes extra film and accessories.
3. Polaroid Now+ Generation 2 i-Type
Let me delve into the specifics of why the Polaroid Now+ Generation 2 i-Type is a worthy alternate against the FUJIFILM INSTAX Mini 90, ensuring to cover every detail and figure:
1. Film Format
In the realm of film, the Polaroid Now+ uses I-Type film for its square photos, each measuring precisely 79mm by 77mm. This gives each image a classic and substantial feel. The FUJIFILM INSTAX Mini 90 uses Instax Mini film to produce its iconic rectangular prints, 62mm by 46mm in size. A noticeable difference in cost and development time comes into play: the Polaroid film is pricier at approximately $2 per shot and unfolds its image in about 15 minutes, whereas the Instax film is more economical at roughly $0.67 per shot and develops in a swift 90 seconds.
2. Image Quality
In terms of image quality, the INSTAX Mini 90 is known to produce sharper and more color-accurate photographs consistently. The Polaroid Now+, while capable of capturing the moment, can sometimes present with photos that are blurry or appear washed out. Moreover, the Mini 90 offers a more nuanced control over exposure settings, allowing for finer adjustments to brightness and flash to match the scene.
3. Camera Size and Style
The Polaroid Now+ measures a robust 3.7 x 4.42 x 5.91 inches and weighs in at 15.9 ounces, making it a larger and heavier option. The FUJIFILM INSTAX Mini 90, more petite, stands at 4.5 x 3.6 x 2.3 inches and a lighter weight of 10.4 ounces. Design-wise, the Now+ boasts a modern and sleek look, complete with a curved body and a sizable LCD screen. The Mini 90, in contrast, opts for a timeless, retro aesthetic featuring a leather-like texture and a compact LCD screen.
4. Lens and Focus
The Polaroid Now+ is equipped with an autofocus lens that alternates between two focal lengths: 94.96mm for standard shots and 102.35mm for portraits. The INSTAX Mini 90, with a move in/out type lens, offers three focal lengths: 60mm for macro and normal modes and 35mm for landscape. Both cameras include a viewfinder with a target spot, but the Polaroid adds a parallax adjustment for more accurate framing in macro mode.
5. Battery Type and Life
The Polaroid Now+ is powered by a rechargeable lithium-ion battery, capable of approximately 15 film packs or 150 shots per charge. The INSTAX Mini 90, on the other hand, uses two AA-size alkaline batteries, with a lifespan of around 10 film packs or 100 shots. Both models include the necessary power accessories.
6. Additional Features
The Now+ pairs with a mobile app to unlock more creative modes, such as aperture priority and light painting, and it includes five lens filters for various effects. The Mini 90, though lacking app connectivity, offers selectable modes like party and kids mode, and allows manual adjustment of photo brightness.
7. Price
The pricing is competitive: the Polaroid Now+ is for $149.99, while the FUJIFILM INSTAX Mini 90 is for $109.95. It's critical to factor in the ongoing cost of film when considering the total investment for each camera.