Writing this article All The Rocky Movies In Order was special. Forget about your favorite Marvel movie. Sylvester Stallone's Rocky films are the best long-running series of all time. Since 1976, audiences have witnessed Stallone go through the ups and downs that only 40 years of life and experience can bring. Rocky is also a classic American story about opportunity and the willpower required to succeed at something. When it comes to Holiday binge-watching, you have a lot of alternatives, but bear in mind that almost everyone enjoys a good Rocky movie.
Few could have expected the immense success and long-lasting appeal of the Rocky films, which were released in 1976 and 1983. At the end of the day, it all started with a low-budget film starring a relatively unknown Sylvester Stallone. As a result of the series' enormous popularity, film after film in the series has been produced. So, how many Rocky movies have been made? Is there a count?
It is preferable if you view them in the order in which they were created. Therefore, we've compiled this comprehensive list of Rocky and Creed films to ensure that you can see them all in one session. It is recommended that you watch all of Rocky's flicks before digging into the Rocky movie rankings and statistics. So here you go All The Rocky Movies In Order.
Rocky (1976)
That's the original film. Today Rocky Balboa is a renowned boxer with an excellent reputation as a genuine ring fighter, yet he was once at the bottom of the barrel and managed to rise to the top despite all odds. Rocky Balboa is a struggling boxer who works as a debt collector for wage in order to make it big. When heavyweight champion Apollo Creed comes to Philadelphia, his promoters want to arrange an exhibition bout between Creed and a struggling boxer, portraying the fight as an opportunity for a "nothing" to become a "someone."
The bout is meant to be easy for Creed to win, but no one told Rocky, who sees this as his only chance to make it big.
The following are the interesting aspect of the film Rocky (1976):
The filming of this film took place over the course of less than a month.
Stallone was nominated for an Academy Award in two categories at the same time – Best Actor and Best Screenplay – for the same performance. For much of the history of cinema, only two performers had received such an accolade before that, both of them being Charlie Chaplin and Orson Welles.
Bette Midler was originally cast in the part of Rocky's wife, but she turned down the job.
It is possible to glimpse Stallone's younger brother and father in several of the episodes of the series.
Rocky 2 (1979)
When Rocky Balboa was defeated in his showdown, he made the decision to retire from the sport and begin living a more peaceful life. However, when boxing is your profession, it is impossible to avoid it completely. Rocky decides to return to boxing after being laid off from a local meat company. Adrian disapproves of Rocky's decision because she is worried for his well-being. Meanwhile, Apollo felt enraged by the cruel and derogatory comments made about his battle with Rocky, and in order to get a rematch with him, Apollo went public about it.
Adrian then went into coma after giving birth to her and Rocky's child; she recovered a few days later and was handed the baby, who was named Rocky Jr. Then Rocky resumes his preparation, and the fight begins. Apollo remains enraged, but Rocky is more eager than ever to triumph.
The following are some interesting facts regarding this film Rocky 2 (1979):
Sylvester Stallone was bench-pressing 220 pounds for the film when the weight dropped and tore his right pectoral muscle.This was just before the fight scene was to be recorded, and the sequence was finally shot with Stallone still severely injured.
Rocky runs through the immensity of South Philadelphia in a jogging scenario that appears in the film. A total of 800 high school students were recruited to serve as extras.
Following the completion of Rocky II, Sylvester Stallone began writing the script for Rocky III (1982), with the idea of making the series a trilogy. He had no intention of making a fourth picture at first.
Rocky 3 (1982)
Rocky achieved both respect and glory by defeating Appolo Creed in the ring. Now he has everything he needs in his life, including both prestige and money. All of the other competitors for his belt are lagging far behind. However, as time goes on, training sessions get shorter and shorter, and the precision of the blows becomes less and less accurate.
Rocky Balboa is considering retirement three years and ten successful title defenses after defeating Apollo Creed, with whom he has become great friends. Due to his fame and comfort, Balboa loses his title to Clubber Lang, who mistakenly kills Rocky's trainer Mickey. Rocky becomes depressed, so Apollo makes the decision to train him for a rematch against Lang so that Rocky can reclaim the title.
There are some things you didn't know about the movie Rocky 3 (1982):
During the filming of the fight sequence between the heroes Sylvester Stallone and Hulk Hogan, the crew worked for a total of 10 days.
Rocky appeared to be undersized against the backdrop of the adversary, but no special editing was done to make him appear such – Hogan's height reached 193 cm, while Stallone's reached 178 cm.
Stallone "dry down" to such a degree for this picture that the proportion of subcutaneous fat was 2.8 percent, although the amount of subcutaneous fat in the general population is 20 percent.
Rocky 4(1985)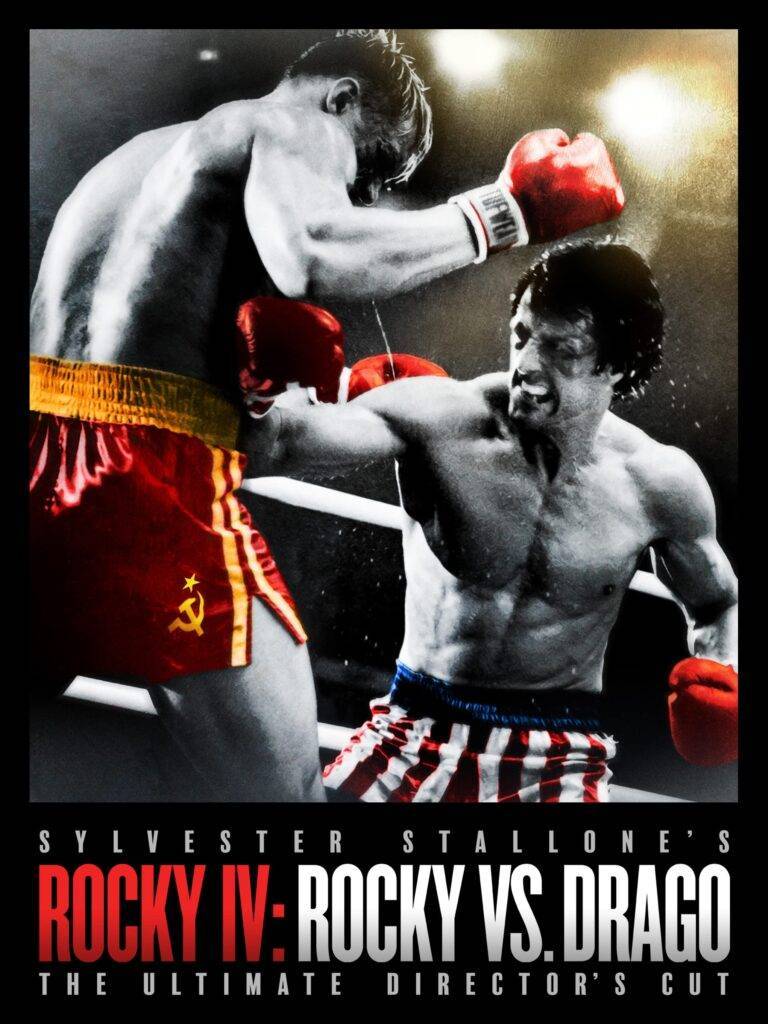 Rocky Balboa, the heavyweight boxing champion, is accompanied by his friend Apollo Creed, who will face Ivan Drago, a Russian boxer who has been rigorously trained and uses high-tech equipment. When Drago murders Apollo during the match, Rocky blames himself and vows to exact vengeance on Drago in the ring on behalf of Apollo. Rocky, against his wife Adrian's desires, travels to the Soviet Union to face Drago, and recruits Apollo's former manager Duke to assist him in his preparations. When we decide to make All The Rocky Movies In Order list, I was most excited for this one for binge watching.
While Drago improves his incredible striking power with high-tech equipment, Rocky toughens up in a compound in the freezing Soviet countryside under Duke's guidance, with the goal of destroying Drago.
Some interesting facts about this movie Rocky 4(1985) :
"Rocky IV" went on to become the highest-earning film in the "Rocky" franchise, grossing slightly over $300 million worldwide.
The film is credited for being ahead of its time in its portrayal of cutting-edge high-tech athletic equipment, some of which was still experimental and would not be available to the general public for another twenty years.
The training scenes that were supposed to be shot in Russia were actually shot in Wyoming (US State). The farm lies in Jackson Hole, and the Grand Teton National Park provided the backdrop for the majority of the outside pictures. The bout was filmed at Vancouver, British Columbia's PNE Agrodome.
Dolph Lundgren was trained by Arnold Schwarzenegger to ensure he was in good form for the picture.
Rocky 5(1990)
Rocky's professional sports career is on the decline. Because of his deteriorating health and advanced age, he is no longer suited for boxing. Even as a coach, Rocky's life is not without its difficulties: A prospective champion and a pupil both change their coaches while Rocky is still in the picture. How long would it take for the former legend to regain the strength to survive and succeed in a new field?
Some interesting facts about this movie Rocky 5(1990):
The only film in the "Rocky" franchise to lose money at the box office is this one.
The majority of the reporters in this picture, as in all of the "Rocky" films, were played by real reporters and boxing writers.
Rocky Balboa (2006)
Taking the leap into the restaurant sector, Rocky expands his knowledge and experience. He now lives in the ghettos of Philadelphia, but leads a happy life that includes running his restaurant 'Adrian's', assisting adult Little Marie and her son Steps. Rocky's passion in fighting rekindles after viewing a simulated bout between Rocky in his peak and heavyweight champion Mason "the Line" Dixon, and he plans to fight in local clubs. Mason Dixon and his management, on the other hand, have a different plan in mind: they want to pit Rocky against Mason in real life as a publicity stunt to reclaim Mason's followers' respect. Rocky finally accepts Mason Dixon's proposal and prepares to enter the ring for the final time.
Some interesting facts about this movie Rocky Balboa (2006) :
Rocky standing alone on the museum steps before the second set of end titles, according to Sylvester Stallone, was shot without his knowledge.
The film incorporates flashbacks from all of the Rocky movies.
All of Rocky's gym training scenes were shot in a single 17-hour shoot.
Creed (2015)
Adonis Johnson is the son of Apollo Creed, the legendary boxing champion who died in a boxing battle in Rocky IV (1985). Adonis was born after his father died and wishes to follow in his father's footsteps in the sport of boxing. Rocky Balboa, the retired heavyweight boxing champion and Apollo Creed's former friend, is the mentor he seeks. Rocky eventually accepts to be Adonis's mentor. They aim to gain a title job with Rocky's help and confront even deadlier opponents than his father. But it has to be seen whether he is a true fighter.
The following are interesting aspects of the film Creed (2015) :
⦁ The actor Michael B. Jordan was required to wear the same American flag underwear that Appolo Creed and Rocky wore in the earlier films of the franchise.
⦁ Sylvester Stallone did not write the script for this film, which marks the first time in the franchise that he has done so.
⦁ According to the events in the first half of the story, the film was released exactly 40 years after the events of the first part.
⦁ Rocky Balboa is the subject of all of these flicks. All of the pieces are presented in the order that they were created.
Creed II (2018)
Years after making a name for himself under Rocky Balboa's mentorship, Adonis Creed is crowned the World Heavyweight Champion. While Adonis' life appears to be going well with his triumph and marriage to Bianca, trouble strikes in Philadelphia when Ivan Drago, the Russian boxer who murdered Adonis' father, Apollo, arrives with his son, Viktor, to face Adonis. Adonis accepts the challenge against Rocky's advise and pays the price in a brutal match that he only wins on a technicality.
Adonis is now injured and discouraged, and he is unable to return to the game, putting his spirit and title in peril. Adonis' family and Rocky must work together to revive Adonis' fighting spirit in order for him to face the future, no matter what decision he makes.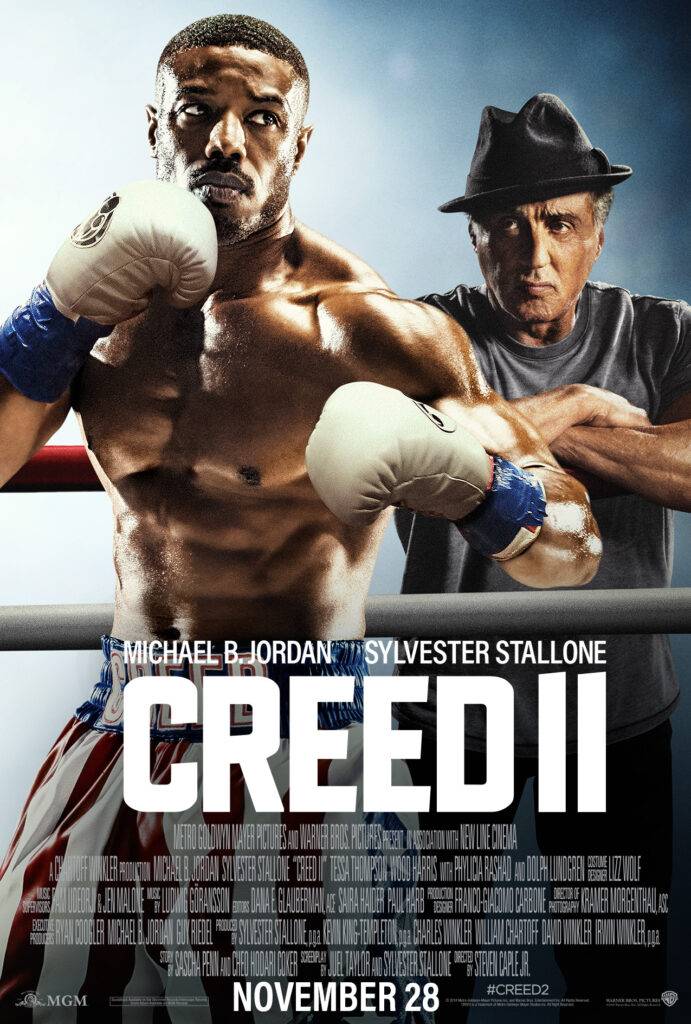 The following are interesting aspects of the film Creed II (2018) :
On December 21, 2018, it was reported that the picture would be released in China on January 4, 2019, making it the first Rocky film to ever be released in the country.
A fan script for a Drago spinoff film exists.The rumors that it will be remade into 'Creed II' were false.
Only Sylvester Stallone has appeared in all of the films in the franchise.
Creed III (2023)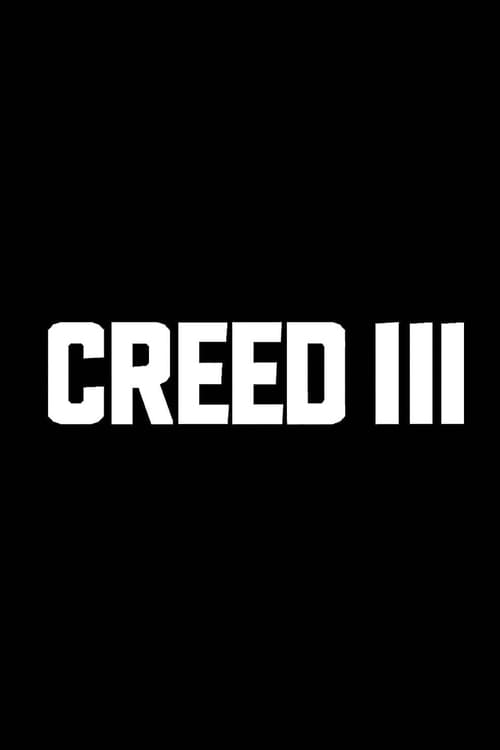 Creed III is in the works. The third installment in what began as a continuation of the Rocky boxing franchise is now being released as its own series without Rocky.The film will follow up on Michael B. Jordan's Creed II, in which Adonis Creed battled Viktor Drago (Florian Monteanu) — the son of the man who murdered his father, Ivan Drago (Dolph Lundgren) — in the ring while also becoming a family man and dealing with his father's legacy, Apollo Creed. Despite not being as new and urgent as the first Creed in 2015, the sequel was well received by moviegoers and critics, allowing for a third installment.